---
Stay Leak Proof & Comfortable All Day Long!
The #1 rated leakproof Period panties for women with incontinence
Do you leak regularly OR experience heavy flow during your period? 
VYVE LEAKPROOF PERIOD
 panties provide
long-term protection
&
everyday relief
for women who leak during menstrual period or urinal Incontinence. 
These carefully crafted undies give you the confidence to live your life without the constant fear of leaking in public.
Breathable. Padded Protection. 
Lightweight, high-waisted panties that keep you dry all day long. 
Never worry about chaffing around your thighs or walking around in damp underwear.

Each pair is lined with 3 layers of super-absorption padding. You won't even notice when an accident happens!
 Why VYVE LEAKPROOF PERIOD PANTIES?
ALL-DAY COMFORT: Vyve Period Panties look and feel like everyday underwear. Our period underwear comes in many different styles and is made from soft, breathable fabric that looks as good as it feels. 
REPLACES OTHER MENSTRUAL HYGIENE PRODUCTS:

 

Our period panties are designed to replace other sanitary products, like pads, tampons, and pantyliners, depending on your flow. VYVE period panties

 

can also be worn with tampons or menstrual cups for extra protection.
CONTROLS ODOR:

 

Our underwear for periods neutralizes all unwanted smells, keeping everything fresh all day.
EASY CLEANING AND CARE:

 

Unlike single-use disposables like tampons and feminine pads,

 

VYVE

 

period underwear are reusable saving you time and money, while helping the Earth. Just machine wash cold and hang dry.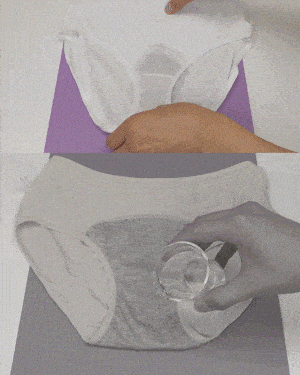 Package Includes
1pcs Heavy Flow Period Panties
Horrible Company, Zero Customer Service
I ordered NINE underwear from this company all in size XL. They sent all 9 in a 4XL. Emailed the company about it about their mistake and they never responded. Now they are asking me to fill out a review. Well they suck and I would NEVER order from them ever again in my whole life and I will tell everyone I know to never order from them either because where is the customer service ???????
Doesn't work at all
The sizing is 2 sizes too small for the thighs and not stretchable, if you can manage to get into a pair they should like you are wearing a windbreaker, and they don't do the job it's supposed to. It's supposed to be for heavy flow, I was barely at a medium flow day and it went right through these things. Don't waste your money!!
Horrible waste of money
These panties are horrible. They are noisy and do NOT work as advertised! The fit is also absurdly off!!! Do not waste your money or time!
No response for my request for a refund!
Terrible
I never received my items and customer support was no help at all. This company is a scam.