---
Stay Leak Proof & Comfortable All Day Long!
The #1 rated leakproof Period panties for women with incontinence
Do you leak regularly OR experience heavy flow during your period? 
VYVE LEAKPROOF PERIOD
 panties provide
long-term protection
&
everyday relief
for women who leak during menstrual period or urinal Incontinence. 
These carefully crafted undies give you the confidence to live your life without the constant fear of leaking in public.
Breathable. Padded Protection. 
Lightweight, high-waisted panties that keep you dry all day long. 
Never worry about chaffing around your thighs or walking around in damp underwear.

Each pair is lined with 3 layers of super-absorption padding. You won't even notice when an accident happens!
 Why VYVE LEAKPROOF PERIOD PANTIES?
ALL-DAY COMFORT: Vyve Period Panties look and feel like everyday underwear. Our period underwear comes in many different styles and is made from soft, breathable fabric that looks as good as it feels. 
REPLACES OTHER MENSTRUAL HYGIENE PRODUCTS:

 

Our period panties are designed to replace other sanitary products, like pads, tampons, and pantyliners, depending on your flow. VYVE period panties

 

can also be worn with tampons or menstrual cups for extra protection.
CONTROLS ODOR:

 

Our underwear for periods neutralizes all unwanted smells, keeping everything fresh all day.
EASY CLEANING AND CARE:

 

Unlike single-use disposables like tampons and feminine pads,

 

VYVE

 

period underwear are reusable saving you time and money, while helping the Earth. Just machine wash cold and hang dry.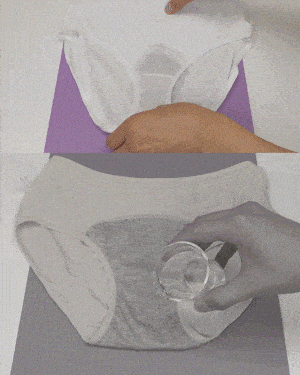 Package Includes
1pcs Heavy Flow Period Panties
CONTACTED CUSTOMER SERVICE MULTIPLE TIMES WITH NO ANSWER
Received completely wrong size in product, ordered XL and received 4XL. ordered NINE pairs. I have emailed, reached out through automated chat, comment previously - NOTHIN!!! NO ANSWER, NOTHING HAS BEEN DONE. HORRIBLE HORRIBLE SERVICE !!!!
They gave me the wrong sizes
I ordered smalls and mediums. They sent me XL and 2XLs. I've contacted them twice a week for 4 weeks and I never got any replies!
Not for heavy flow
I bought a 2x and a and it fits my 10yrs the L was for her and the med was to small. Definitely get like 3 or 4 sizes up and expect only light periods
Horrible
I asked for a refund because it took forever to get them and once I did they didn't fit and didn't stop any leaks or issues. Worst. Ever.
Great purchase
Sizes run small so size up I've been that great purchase.